Best Golf Courses St Andrews & Fife
Golf Courses St Andrews and Fife
Known as 'The Home of Golf', St Andrews is the most famous and desired destination in Scotland. Along with the iconic Old Course, there are also over 40 different golf courses in St Andrews & Fife area. Below are our top picks for golf in St Andrews & Fife.
Crail Golfing Society
Balcomie & Craighead
The Balcomie Links will have you exposed to the elements on the shores of the 'Firth of Forth' and it can turn even the shortest golf holes into card wreckers. As a result, the Balcomie Links is a fun course that you'll want to play again and again. If you're a fan of Scottish links golf, you won't want to miss Balcomie Links at Crail Golf Society. It's a true gem, full of history and character, and a must-play for any golf enthusiast.

The Craighead Links is a beautiful addition to Crail. The Craighead layout is brilliant because it offers players of all skill levels a thrilling experience from the front tees. If you're willing to put yourself to the test, start from the tips. The obstacles, options, and shots that must be played from the back tees are radically different. A round at Craighead is always remembered.
The Duke's Golf Course is owned by The famous Old Course Hotel and is in fact the only non-links course in St Andrews. If you are looking for a change from links golf then The Duke's is a must-play in St Andrews.
Dumbarnie Golf Links 2023
Dumbarnie Golf Links is a top-notch golf resort that has swiftly established a reputation as one of the most breathtaking courses in the nation. It is tucked away on Scotland's eastern coast. This relatively young course has already cemented itself as a must-play for golf enthusiasts from all over the world thanks to breathtaking sea views and an amazing design.
The Golf House Club Elie 2023
The Golf House Club Elie is a historic golf club located in the picturesque village of Elie, Fife, Scotland. Founded in 1875, it boasts a rich golfing history and is home to one of the oldest links courses in the country. 5 miles are all that separate nearby Anstruther from The Golf House Club, also known as Elie. The choice of where to play can be challenging for the visiting golfer in Fife because there are so many top-notch courses in such a small area. Playing in Elie is a must-do if you're fortunate enough to travel to Fife!
The 520 acre five star Fairmont Resort encapsulates luxury, elegance and truly breath-taking surroundings in the 'Home of Golf'. It is a unique and special venue with its peaceful setting and stunning cliff-top views of St Andrews and the North Sea. Above all the resort prides itself on an array of fantastic facilities including two world-class championship golf courses, the Torrance and the Kittocks.
Kingsbarn Golf Links 2023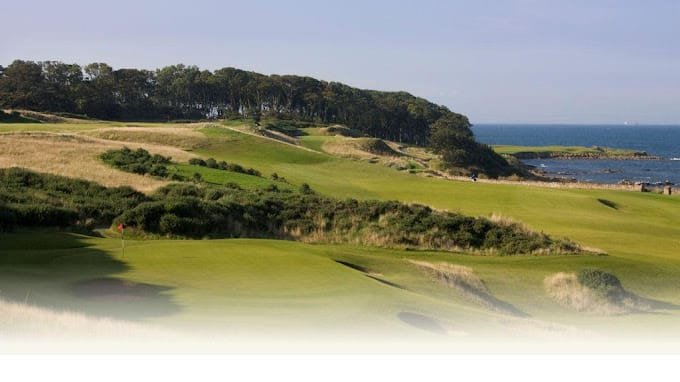 Kingsbarns Golf Links is a popular Scottish golf course located near St Andrews in Fife. Kingsbarns joined the famous old courses of neighbouring St Andrews and Carnoustie, bringing with it a new dimension to the classic Scottish game. It is the only Scottish course to be built on links property in more than 70 years! The scenery in Kingsbarns is breathtaking. Continuous upgrades have allowed the course to maintain its top-20 position as one of the best courses in the UK.
When it comes to links golf, Fife is unmatched, but this Scottish region is also fortunate to have a number of superb inland courses. Ladybank was one of them when it was established in 1879. It offers a delightfully peaceful atmosphere and has played host to Local Final Qualifying for the Open seven times since 1978. It's easy to see why this championship course always comes to mind when discussing Scotland's top courses as it is a true diamond in terms of inland tests.
Leven Links is another course also located along the Fife Coastal trail and has records of playing golf there dating back to the early 1800's. In fact, it is thought to be the first golf course to have 18 separate greens and teeing grounds. Leven has also hosted local final qualifying events when The Open Championship was taken place at The Old Course, St Andrews.
Lundin Links Golf Club 2023
Lundin Links Golf Club is situated on the stunning coastline of the Firth of Forth. It enjoys a prime location, just a short drive from St. Andrews, making it easily accessible for golfers from near and far. The golf course at Lundin Links is renowned for its exceptional design and natural beauty. It is a traditional links course that offers a challenging yet enjoyable experience for golfers of all skill levels. With undulating fairways, strategically placed bunkers, and breathtaking sea views, this course truly captures the essence of Scottish links golf. This hidden gem of a course also plays host to Open Qualifying when the event is held at St Andrews.
Scotscraig Golf Club 2023
Scotscraig Golf Club is situated in a picturesque setting, surrounded by rolling countryside and offering breathtaking views of the River Tay. The golf course at Scotscraig is steeped in history and renowned for its traditional charm. It is also another course in the area that plays host to Open Qualifying when the event is at St Andrews.
The Castle Course St Andrews 2023
The Castle Course is the newest member of the St Andrews Links portfolio of courses. Even though only opened in 2008, it is fast becoming a favourite amongst locals and visitors alike. The Castle course is only two miles from the heart of town and follows the coastline to the east of St. Andrews. The Castle Course is a superb complement to the Trust's other six golf courses, with outstanding scenery and a demanding level of play.
St Andrews Links, Jubilee Course 2023
New Course St Andrews 2023
The New Course at St Andrews beckons you to embark on an unforgettable golfing journey where tradition meets modern design. Had this course been on any other piece of land anywhere in the country, it would be seen as a real marquee course. However, it will always be in the shadows of the famous 'Old Course'.
St Andrews Old Course 2023
The Old Course is without a doubt the most famous course in the world and is always ranked amongst the elite courses. The Open has been held here a record 29 times since 1873. '. St Andrews is often referred to as the 'golfing mecca' with its plethora of world-class golf courses.
Accommodation, Golf Tee Time Reservations, and Transport!
We take care of every aspect of your tour including accommodation, golf tee time reservations and transport needs along with any other individual requests including:
From the initial contact, our team work closely with you to plan each detail of your golf tour and provide you with your own personalised golf tour itinerary.